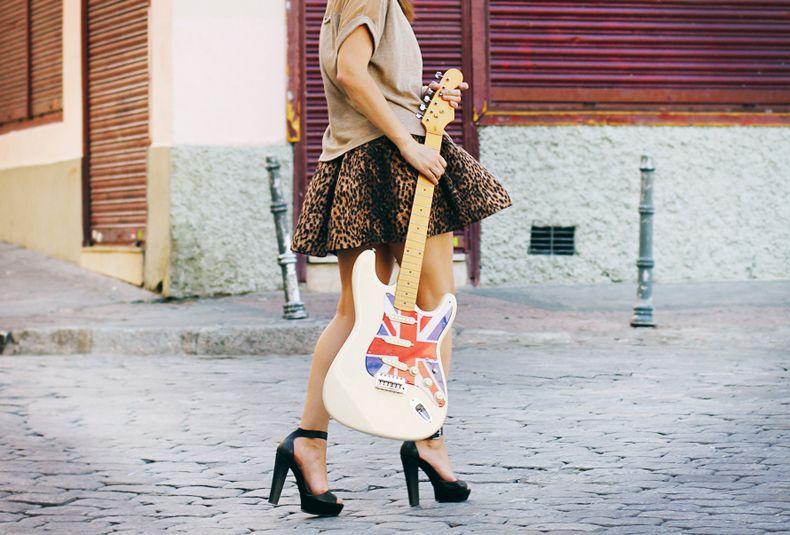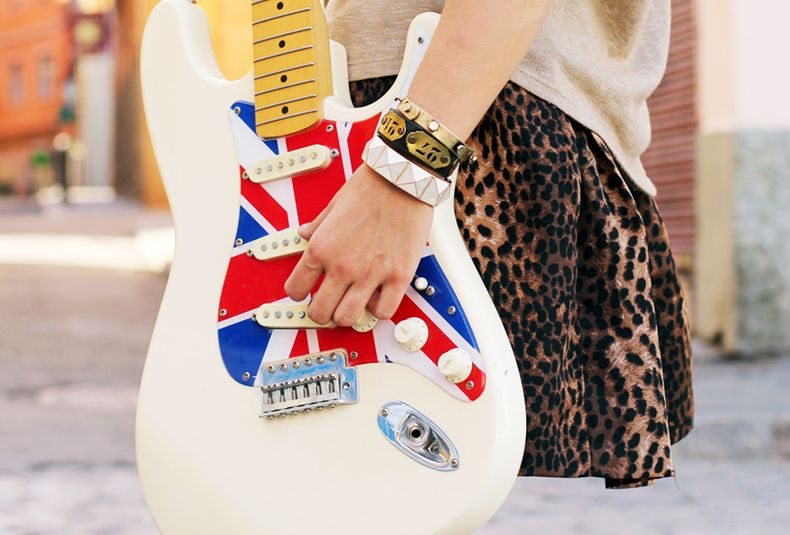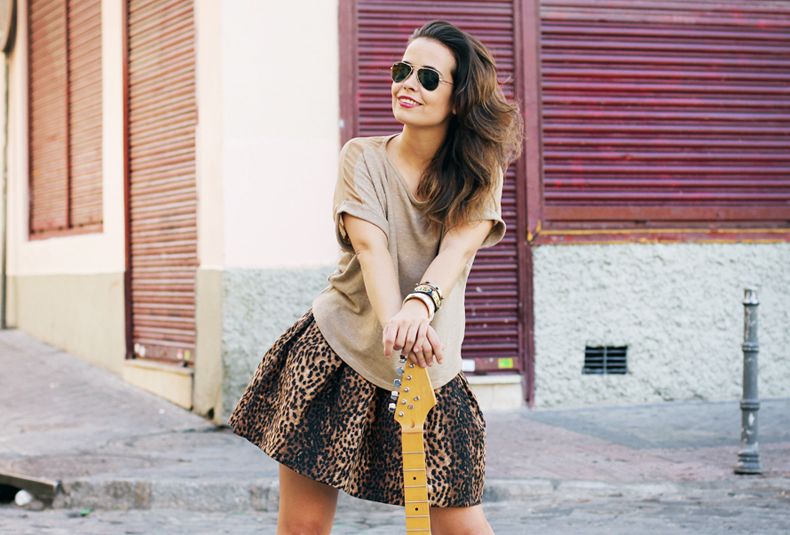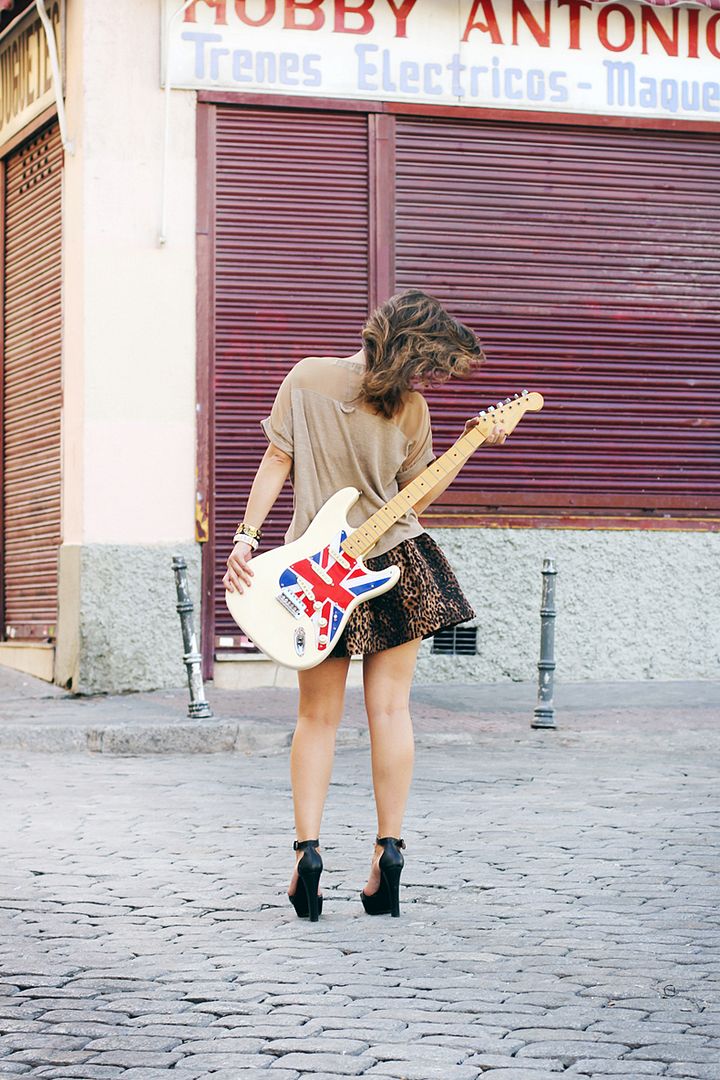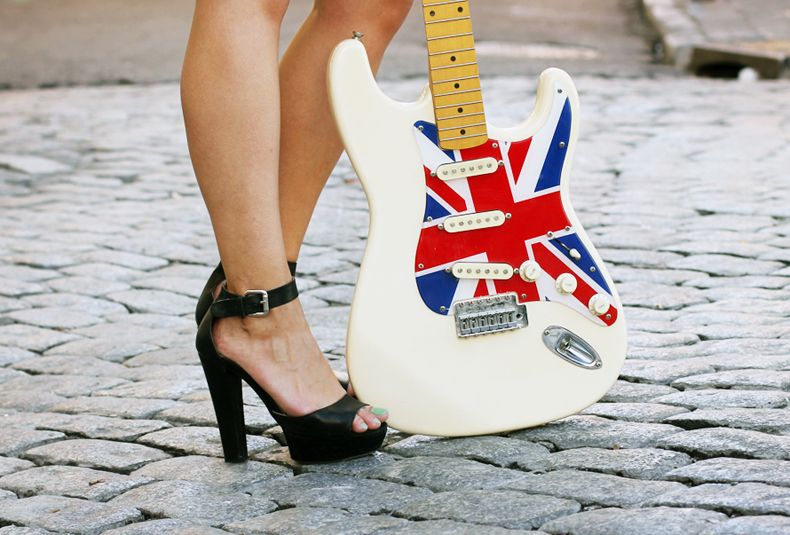 Camiseta/

Top:

Zara (Old), Falda/

Skirt:

Zara(Old), Sandalias/

Sandals:

Zara (Old), Guitarra/

Guitar:

El Museo Popular (El Rastro, C/Santa Ana,12), Pulseras/

Bracelets:

H&M,Malaba & Madewell, Gafas/

Sunnies:

Ray-Ban Aviator, Barra Labios/

Lipstick:

Topshop Vamp
F
eliz lunes [email protected]!! ¿Qué tal el fin de semana? Yo me he estado recuperando del viaje a Berlín, ha sido muy divertido pero no dormí casi así que me he dedicado a recuperar horas de sueño, ver pelis (por cierto si no habéis visto "La Boda de mi Mejor Amiga" os la recomiendo son risas aseguradas) y a hacer el vago que de vez en cuando es necesario. En seguida os enseñaré fotos del viaje todavía estoy poniéndome al día con ellas :).
Como ya habréis visto el post de hoy es un poco diferente de lo habitual y es que he sustituido el bolso por mi nueva guitarra no se me ocurría una manera mejor de enseñarosla. La
cogí "prestada" de la tienda de antigüedades de mi padre, aunque le faltan las cuerdas me parece super chula como elemento de decoración para mi casa, ¿no os parece?, de todas formas estoy mirando la manera de arreglarla para ponerla en marcha, ¡espero conseguirlo!. En cuanto al resto del look son todo prendas de otras temporadas, por cierto las sandalias, según me ha comentado una lectora, las han relanzado en rebajas y tiradas de precio así que si os gustaban ya sabéis es el momento. Espero que os guste este post experimental :).
Mil millones de besos y muchísimas gracias por todos vuestros comentarios. ¡¡Hasta mañana!!
A
s you have seen today's post is a bit different than usual… I replaced the bag for my new guitar! because I think is the better way to show it to you. I took it "borrowed" from the antique shop of my father, although it lacks the chords seems super cool as a decoration accessory for my house, don`t you think?, Anyway I'm looking for a way to get it works again, I hope to get it!. And about of the rest of the outfit are all items of other seasons but I think are so trendy actually. Billion kisses and many thanks for all your comments. See you tomorrow!