S
eguramente algunas de vosotras ya sepáis como conseguir que vuestras uñas tengan estampado de periódico, yo lo descubrí la semana pasada cuando mi amiga Ester me contó fascinada este truco que había aprendido de su prima de 12 años… es genial lo que se puede aprender de niñas de estas edades, saben latín jeje. Me puse manos a la obra para comprobar los resultados y decidí hacer una entrada para compartirlo con vosotras, es muy fácil y las uñas quedan chulísimas.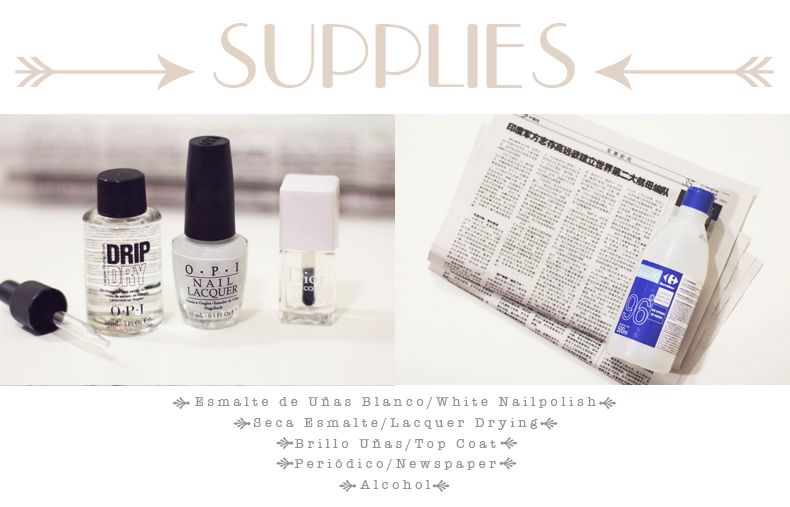 1_ Pintar las uñas con un esmalte de color blanco, yo he utilizado uno de O.P.I de la colección de Spiderman que me encanta. También podéis probar con otros colores pero sobre blanco es como más destacan las letras de periódico.

Paint your nails with a white nail polish, I have used one from OPI that I really love.
2_Si como yo eres poco paciente… aplica unas gotas de secado de uñas para evitar esperas.

Apply lacquer drying.
3_Corta trozos pequeños de papel periódico, más o menos del tamaño de tus uñas. Yo lo he hecho con un periódico chino me gustan sus letras :P.

Cut small pieces of newspaper, approximate the size of your nails.
4_Echa un poco de alcohol en un recipiente y moja durante 1 segundo el papel de periódico.

Pour some alcohol into a bowl and dip the newspaper piece.
5_Una vez mojado el papel en alcohol colócalo sobre la uña presionando, solo dos segundos tiene que ser rápido sino las letras se deshacen.

Place the paper on the nail pressing for two seconds,must be a fast moving so the letter don't break.
6_Retira con cuidado el papel y a por la siguiente uña.
Carefully remove paper.
7_
Aplica brillo de uñas y listo, ya tienes uñas estampadas con letras de periódico.

Apply top coat and your newspaper's nails are ready.
¿Sabéis más trucos para decorar vuestras uñas? ¡Contadme!
¡¡¡Mil besos y feliz fin de semana!!!
Do you know more tricks to decorate your nails? Tell me!