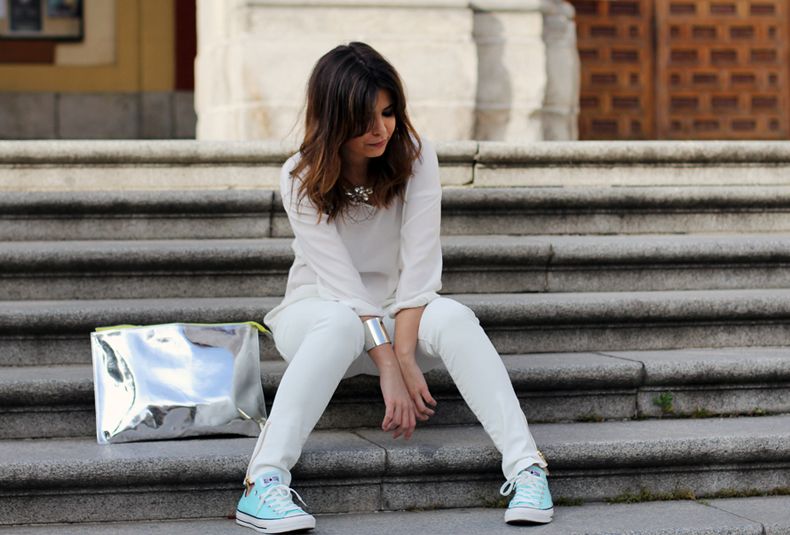 C
omo me comentaba ayer una lectora parece ser que en Semana Santa el tiempo se va a estropear en toda España (que raro!), así que estoy aprovechando al máximo para llevar prendas veraniegas antes de que venga "la tormenta".
Este look lo llevaba ayer para un día bastante ajetreado, me recorrí medio Madrid y todavía no sé como lo hice para volver a casa con los pantalones limpios, no se si a vosotras os pasa pero suelo tener bastante peligro cuando voy de blanco de arriba abajo :P! Para dar un poco de color al look me puse mis nuevas Converse, ¡estaba deseando estrenarlas! ¿Qué os parece?
¿Os vais a algún sitio en Semana Santa? Yo me quedo en Madrid, me encanta en estas fechas porque todo el mundo emigra y se queda la ciudad tan vacía que da gusto salir a pasear y a hacer cosas!
¡¡¡Besitos y pasarlo genial!!!
Yesterday I wore this outfit for a day pretty busy, I walk a lot and I still don't know how I return home with the white pants clean! To give a touch of color I wore my new mint Converse, the most comfy shoes I have in my closet! Do you like it?