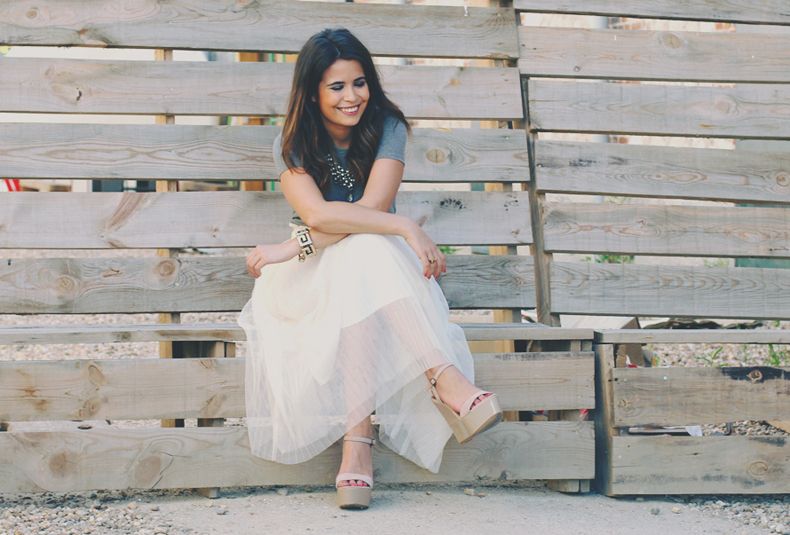 Falda/

Skirt:

Coosy

SS'12, Camiseta/

Top:

H&M, Collar/

Necklace:

Forever 21, Pulsera/

Bracelet:

Vintage, Bolso/

Bag:

Sandra Freckled, Sandalias/Sandals:

Steve Madden
H
e perdido la cuenta de cuántas faldas de tul han salido por el blog tengo obsesión con ellas, en principio pueden parecer que todas son iguales pero para mi cada una de ellas tienen algo especial y distinto, creo que es algo normal que nos pasa a todas :). Esta que os enseño hoy es de
Coosy
y me gustó especialmente por su cintura, me encanta que quede atada con cordones nude me recuerda a las faldas de otra época, además es plisada y no tenía ninguna así que me dio la excusa para añadirla a mi armario. Sin duda es la más bonita de todas las que tengo, espero que os guste tanto como a mi.
¡Besitos y feliz jueves!
I
lost the count of how many ballet skirts I have in my closet, I've and obsession with them…but for me each one have something special and different. This one that I show you today is from Coosy, a spanish shop online with a cool items, and it's my favorite at this moment, do you like it?. Big kiss and have a lovely day :).